Darkover Grand Council 21

(Don - 116th)(Thomas - 121st)

1998: November 27-29

Holiday Inn, Timonium, MD

GOH: Adrienne Martine-Barnes

Artist GOH: Helen Fleischer
---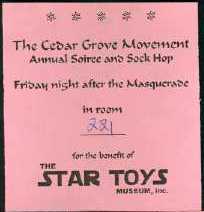 It was another enchanting Darkover. Don was on several panels, including "Working With Another Writer," "Sources for Worlds," and "Novels or Short Stories, Which is 'Better.'" Thomas & Don's friend Rob Gates had his debut as a moderator, and did an excellent job. Don and Carl Cipra, both verteran moderators, joked that next year they should have a "Moderators Panel" to discuss techniques of moderating panels.
In addition to the usual crowd, Thomas & Don's friends Brian & Shirley came up from St. Augustine to attend; Brian brought his massage table and equipment, and kept busy throughout the con. (Lisa and Melissa, unfortunately, were not able to make it this year.)
The high point of the con was the Clam Chowder concert. Just as they did the year before, the Clams announced that they would sing "Bend Over, Greek Sailor" as a fundraiser for Children's Hospital. The hat was passed during the concert, and when all was said and done, over $1,200 was raised for the charity -- $400 more than last year.
---
Previous Darkover

Next Darkover

---