Shore Leave 5
(Thomas - 8th)
1983: July
Hunt Valley Inn, Timonium, MD
---
Thomas wore one of his Luke Skywalker costumes to Shore Leave 5. There he met Cindy Lewis and Betsy Anthony. Cindy was dressed as Princess Leia, and as they passed one another, Thomas would call out, "Hi, Sis!" and Cindy would call back, "Hi, Bro!" A weekend of this left them close friends.
Thomas also met Suzanne Elmore at Shore Leave 5. She was impressed by his ability to stay in character, and asked him if he wanted to be in the play she was doing for Clippercon. Thomas agreed, and another long-term friendship was born.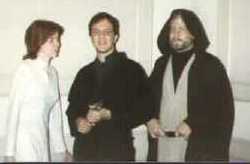 Cindy Lewis as Leia, Thomas as Luke, and ? as Obi-Wan Kenobi.
---