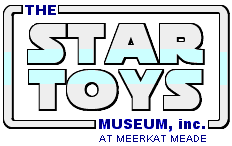 The Star Toys Museum simply would not exist without the generous gifts of those listed on this page. The Board of Directors sincerely thanks each and every one of these selfless people for their support.

(Donors have contributed items to the Museum's collection.)
Amanda Allen
Kevin J. Anderson & Rebecca Moesta
Gertrude Atkinson
Thomas Atkinson
Dawn Barbe
Greg Barbe
Lisa A. Barnett & Melissa Scott
Carol Bartlett
Andrew Bergstrom
Will Brehm
Grace Brewster
Marvin Bryant
Betsy (Anthony) Childs
Nancy Choice
Dan Corcoran
Brian & Shirley Dean
Betsy & Dan Delaney
Ricky Dick
Kim Dickson
Marty & Bobby Gear

Giant Food, Inc. of Severna Park
Jim Grey
Pat Hammer
Mike Hetzler
Jeannette Holloman & Ron Robinson
Sylvia Jacobs
Matthew Jacobs
Pat's Hallmark of Severna Park
Dodie Robinson
Don Sakers
Gloria Schrage
Inge Simms
Karen Stein & Robin
June Swords
Martin Thurn
April Tull
Doug Warden
Kristopher Michael Woerner
Cindy Woods

(Supporters have donated some cash to the Museum.)

(Contributors have donated more cash to the Museum.)

(Patrons have donated large amounts of cash to the Museum.)

(Benefactors have donated extensive amounts of cash to the Museum.)
Thomas Atkinson
Will Burnham
Dan Corcoran
Don Sakers

(Associates have donated great heaps of cash to the Museum.)
---
Apologies if your name belongs on this list and we have forgotten you. Please contact us and we will immediately rectify our error.
---