Thomas G. Atkinson, Curator

The Star Toys Museum, Inc. is a nonprofit corporation formed to collect, preserve, and exhibit toys and other memorabilia relating to Star Wars as well as other science fiction/fantasy cinema and literature, and their effect upon society.

The Museum is a tax-exempt organization under section 501(c)3 of the Internal Revenue Code.

The Museum contains over 12,000 items (toys, publications, cards, clothing, memorabilia, etc.)

Thomas with Mark Hamill

|

|

|
|

|

|

The Museum's collection concentrates primarily on the Kenner/Hasbro lines of Star Wars toys, although other toys and memorabilia are never refused. The Museum has a complete collection of Kenner action figures and vehicles, Star Wars Micro-Machines, and Star Wars comics, as well as impressive collections of Star Wars trading cards, plates, linen, posters, and various other items.

The Museum is housed at Meerkat Meade in suburban Baltimore, Maryland, USA. Visitors are welcome by appointment.

We welcome you to meet our Directors, Officers, and Advisors and browse pictures of the Museum. If you wish, you can read our Articles of Incorporation and Bylaws.

In 2006, The Museum was featured in the book Weird Maryland.

The Baltimore City Paper ran this article about the Museum on April 13, 1999.


Fanzine Archive
Fanzines (fan-produced magazines) are among the most ephemeral of items. They often have limited print runs and low distribution, and their resale value is low. The Museum is actively collecting and preserving Star Wars fanzines. Click here for more intormation.
---
The Millennium Falcon Extraordinaire

Mystery Items
Can you shed any light on the origin of these mysterious items?
Trading Post
Some things the Museum needs, along with some things we can trade. Trading card collectors should definitely take a look.
Revenge of the Sith Merchandise
Since May, 2005, the Museum has been overwhelmed by the sheer volume of Revenge of the Sith toys and other merchandise. New items come in every day, and there are piles waiting to be cataloged. Our buying has concentrated on toys, school supplies, magazines, and representative samplings of other materials. As always, any Star Wars related donations are welcome; the best bet for items that we do not have is apparel items and books. (Signs, displays, and other promotional items are most welcome.)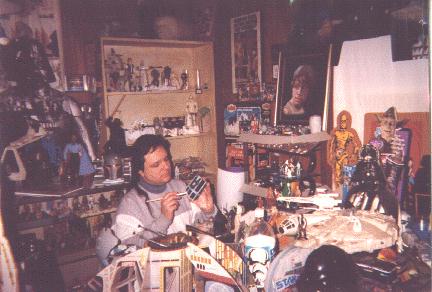 Here is Thomas in the Museum.
More pictures of the Museum.

Donors to the Museum.

See our Donors and Supporters lists.
Supporters get the Museum newsletter, a cool certificate, and the satisfaction of supporting a noble cause. Just print this form, fill it out, and mail it (along with check/money order) to: The Star Toys Museum, Inc., Meerkat Meade, 811 Camp Meade Road, Linthicum, MD 21090-3030.
Name

:
Level of Donation:

Address 1

:

__Supporter ($10)

__Contributor ($25)

__Patron ($50)

__Benefactor ($100)

__Associate ($250)

__Other Amount: ________

Address 2

:

Phone

:

Email

:

(___)

I have Star Wars toys/memorabilia I would like to donate. Please contact me.
The Museum also accepts PayPal; just click the link below and use our email address startoys@meerkatmeade.com

(If you don't have a PayPal account, consider signing up. It's free, plus you get a $5 bonus!)
---

Donations to the Star Toys Museum, Inc, are tax-deductible under section 501(c)3 of the Internal Revenue Code.
---

All Star Wars-related images, wording, and titles are the exclusive property of Lucasfilm, Ltd., and are borrowed as a celebration of the imagination and work of Mr. George Lucas. No infringement upon the exclusive rights held by Lucasfilm, Ltd., or any other entity, is presumed or implied by the Museum or its members and directors.

Some Good Star Wars Collecting Links: